2011 saw strong price increases for zircon sand with prices starting the year at USD 1500/mt and finishing at USD 2500/mt. Q1 2012 has seen some more stable price levels around USD 2600/mt.
Demand for premium Australian sand has been slow with consumers looking at alternative sources including West Africa and Indonesia. The price for sand from these countries is currently around USD 2600/mt compared to Australian sand at USD 2800-2900/mt FOB China port.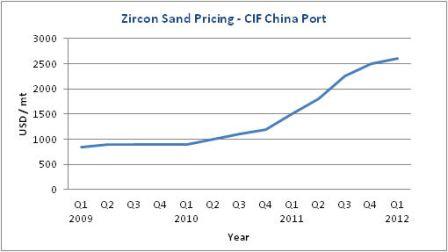 The prices of zirconium oxides and zirconium chemicals produced from zircon sand have increased in line with that of zircon sand and were more stable during Q1 2012. It is expected prices for zirconium oxides and chemicals to remain steady in Q2 2012.
Click the icon

for your downloadable copy of this article.
Zircon sand is the starting raw material for the production of the majority of Zirconium Chemicals and Zirconium Oxides, including Zirconium Oxychloride, Zirconium Basic Sulphate, Zirconium Basic Carbonate, Zirconium Acetate, Zirconium Nitrate, Zirconium Oxide, Yttria Stabilised Zirconia. For further information on Zirconium Chemicals and Zirconium Oxides, please contact us on: Tel +44 (0)1440 709709, enquiries@abscomaterials.com.